Together with Ahli and an avid bird photographer, Banard, we head towards the jungle of Pahang to look for more birds. We left Cheras at 6am and arrived at the birding ground before 8am. Upon arrival, we were greeted by a pair of white-bellied woodpecker (my lifer), dollarbird, hill myna, barn swallow, and tiger shrike. Going deeper into the road, we get to see common flameback, dark-throated oriole, black-and-red broadbill, long-tailed parakeet, asian glossy starling, oriental pied hornbill, greater racket-tailed drongo, and a glimpse of the crested jay. The place is dry but some birds are now beginning to nest or attending to their young ones in the nest. We waited for almost 2 and 1/2 hours for the scarlet-rumped trogon. It finally appears at the location where we know we would see it. (Read more and see more photos at
nature2pixel.com | Day Trip Bird Exploration to Bukit Rengit
Below is a list of the birds sighted at Bukit Rengit. Though the list is not long, but I'm glad that I get to see the birds I wanted.
White-bellied Woodpecker*
Common Flameback
Barn Swallow
Dollarbird
Hill Myna
Olive-winged Bulbul
Hairy-backed Bulbul
Long-tailed Parakeet
Oriental Pied Hornbill
Greater Racket-tailed Drongo
Dark-throated Oriole
Dark-sided Flycatcher
Asian Glossy Starling
Black-and-Red Broadbill
Tiger Shrike
Scarlet-rumped Trogon*
Black-naped Monarch*
White-throated Kingfisher
Crested Jay*
* lifers
There are some other birds that escape my eyes and Banard because we were mostly concentrating at specific spots while EndemicGuides.com was walking up and down the road. He got more birds than we did. Banard got a glimpse of a black and blue bird ("of a chicken size" he said) on the ground. pheasant? No confirmation. We get to see a giant squirrel as well.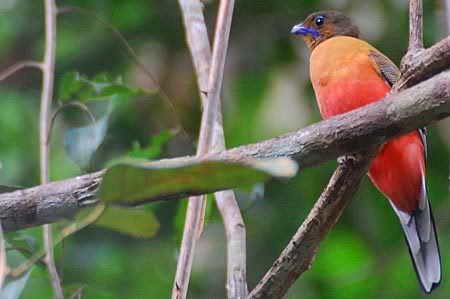 Scarlet-rumped Trogon
Black-naped Monarch